Subaru Lakeland is a proud partner of Southeastern Guide Dogs. The goal of this incredible organization is to breed and train guide dogs that will eventually be homed with veterans, grieving families of service members who lost their lives in the line of duty, and those who are visually impaired. Wondering how you can get involved with Southeastern Guide Dogs as well? Subaru Lakeland can show you how!
About Southeastern Guide Dogs
Southeastern Guide Dogs is involved in the research process for finding which dog breeds offer the best temperaments for guiding the visually impaired and comforting veterans. Donations to the organization fund this important research and so much more! 
Additionally, Southeastern Guide Dogs also trains each service dog for two years. Once the training process is complete, the dog is carefully placed with its new owner in the Lakeland and Winter Haven area. The new owners attend several weeks of training so they can build a bond with their dog and learn how service and guide animals can be of assistance to them in their everyday lives.
How Subaru Lakeland Helps
Subaru Lakeland is proud to help raise money for this outstanding cause through the Subaru Share the Love event. With the purchase of a new Subaru, $250 of the sale price is donated to the customer's choice of five charities. When Southeastern Guide Dogs is selected, Subaru Lakeland will match the donation. Additionally, we collect donations during our "Superheroes on Parade" fundraiser.

On April 11th, 2022, Stephen Mastro, Stephen Myers Jr, Matt Adkins, and Danny Cannon of Subaru Lakeland, Subaru North Orlando, and Subaru South Tampa joined Andy Kramer, Vice President of Philanthropy for Southeastern Guide Dogs, to accept a donation check for $99,000. 

Over the last 13 years, through the Subaru Share the Love Event, Subaru of America Inc. and its participating retailers have donated more than $200 million to charity, with customers choosing between four national charities and over 1,610 hometown charities. Subaru Lakeland, Subaru South Tampa, and Subaru North Orlando have donated close to $400,000 combined over the last few years alone.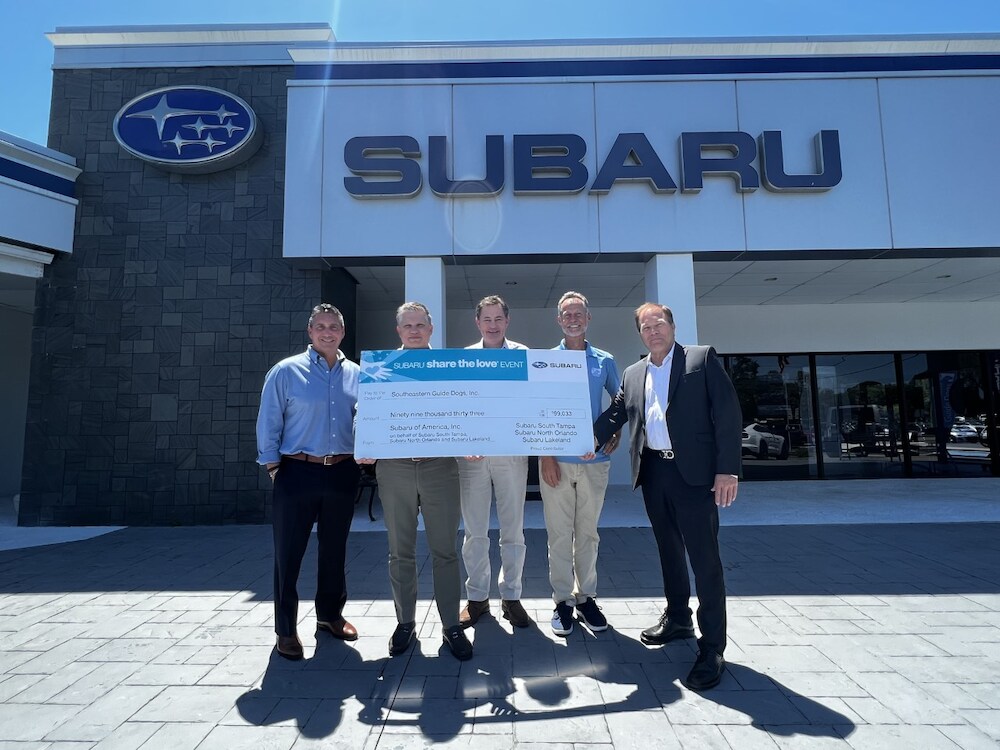 How You Can Help Today
How can you help today? Stop into one of our Subaru showrooms to donate to our "Superheroes on Parade" fundraiser. Just drop your donation in the bowl by the "Superhero" (you'll know what we mean when you see it). You can also choose your donation when you purchase a new Subaru during the Share the Love event this November or donate to @SEGD directly.
Contact Subaru Lakeland to Get Involved
If you are in the Bartow or Lake Wales area and want to get involved with Southeastern Guide Dogs, you can contact the team at Subaru Lakeland or visit us in person. We're located at 5212 S. Florida Avenue in Lakeland. You can also donate to Southeastern Guide Dogs directly. We encourage you to help Southeastern Guide Dogs in their mission to transform the lives of those in need! 
Make an Inquiry